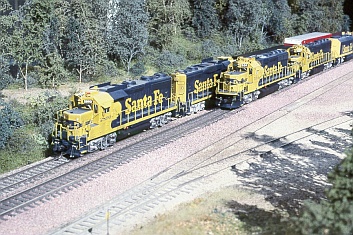 For those who have the OBUB-1 or OBUB-2 that pre-date the V2.0 MSS Standard
:

The OBUB-1 and OBUB-2 are compatible with the V2.0 MSS Standard, which is
tailored to avoid compatibility issues with legacy MSS products developed under
the predecessor V1.0 MSS (the original Rail Model Journal article published in 2005).

However, the OBUB-1 and OBUB-2 don't support some new features of the V2.0 MSS Standard,
including "Approach Diverging" aspects associated with junctions (this feature uses MSS
Occupancy Bus pin 8, which is no longer assigned as MSS Ground) and "alternate functions"
(this feature can use pin 7, which was historically tied to MSS Ground and is still the default
use for pin 7 in the V2.0 MSS Standard).

There is no easy way to modify the OBUB-1 or OBUB-2 to support these new features.
Upgrading to the OBUB-3 is one path forward to enable use of the Approach Diverging
feature or pin 7 for functions other than MSS Ground.

Another change in the V2.0 MSS Standard is that 12 VDC is specified for powering all
MSS electronics. Some OBUB-2's have a 9 VDC regulator installed. There is no harm
in leaving such OBUBs as-is; however, to update to 12 VDC simply replace the VR1
component with Digi-Key LM2940CT-12/NOPB-ND or an equivalent device.

OBUB Instructions Archive

Scale Nature Company
Innovations for scale model railroading